Affordable surveillance networking options for home can be difficult to setup or have ongoing maintenance costs. With the AirLive Surveillance networking solution, it's easy and affordable to have a high-quality surveillance solution to provide home application users safety and security to let them feel save when they leave and arrive home.
Provide Safety and Security
AirLive IP Surveillance Solution for home application integrates with mobile Viewing iOS App. Users can remotely view their home anytime anywhere. This mobility feature ensures their homes are being watched.
AirLive provides wireless IP cameras that designed for home surveillance solution. A wireless IP camera is easy to install and setup. Users will not need to worry about the cables to interference the beautiful interior design of every home.
Multiple Ways to Storage
Most of AirLive home series IP cameras equips with SD-card slots. Users will have other options to storage their videos. They can just save their recording from each IP camera into their sd-cards. Users can access to the recording files by easily unplug the memory card and load on their personal computer.
Cost Effective
AirLive provides variety of IP cameras which equips with different resolutions. For home surveillance users, they can easily use AirLive's home series IP cameras which are easy to use and cost effective products.
Solution Sample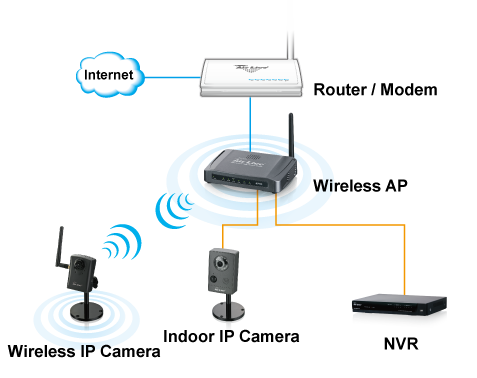 IP Camera

NVR


CoreNVR 9
Network Video Recorder