Key Features

1/2.8" Sony Progressive Scan CMOS Sensor
3 Megapixel + SXGA Real-Time at Dual Streaming
Built-in Smart Tracking Function
30x Optical Zoom
Weather-Proof IP 66
802.3at 60W PoE+ Support for Heater Activation
Built-in Heater and Fan
Pan / Tilt Resolution of 0.225°
Motion / Audio Detection
Backlight Compensation/ Wide Dynamic Range
3D Noise Reduction/Defog function
2-Way Audio
Auto and Manual PTZ Calibration
-40°C~50°C Wide Temperature Range
Compatible with ONVIF Standard
Mechanical IR-Cut Filter Removable
Micro SDXC Memory Card Slot for Local Storage

AirLive SD-3030 is a Speed Dome IP Camera which integrates 30x optical zoom AF lens, 3 Megapixel Sony progressive scan CMOS sensor, high-speed and precise pan/ tilt mechanism for smart tracking function. With IP66 and wide temperature range supported by PoE+ power, SD-3030 has excellent capability for harsh outdoor environment.
3 Megapixel Sony Progressive CMOS Sensor with High Frame Rate
3 Megapixel resolution is 1.5 times more than Full HD. It will present more details than current 1080P speed dome. With 30 FPS at 3MP and 60 FPS at 1080P, SD-3030 can catch moving object with clear still image.
30X Optical Zoom and High-Speed Pan/ Tilt Mechanism
Surveillant can monitor larger area by only one AirLive SD-3030. With 30x optical zoom, user can check any object in long distance with clear video quality. High speed pan/ tilt mechanism can help surveillant to track any unexpected stranger rapidly without a miss. Moreover, Auto Pan / Preset / Sequence / Cruise functions can secure major areas with easy settings.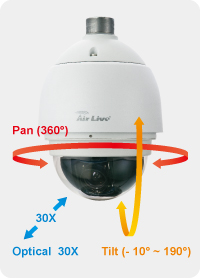 Smart Tracking Function
"Smart Tracking" could automatically detect an interrupting/moving object and follow it within the visual coverage area. This intelligent program could help to track the unexpected presence of people or vehicles require special attention under video surveillance. It will be helpful to secure the restriction regions with smart-tracking speed dome camera outside the business hours.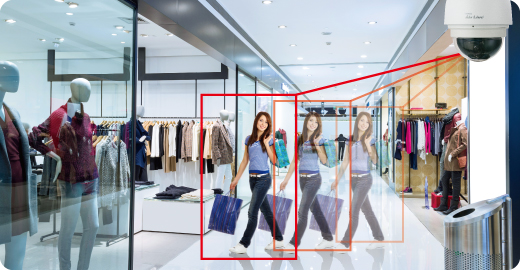 Wide Temperature Range and Weather-Proof IP66 Rated.
Built-in heater and great thermal conductivity design, SD-3030 can operate from -40 to 50 Celsius degree. In addition, IP66 rated housing can also protect camera from heavy rain and sand storm damage.
Easy Installation with optional 802.3at PoE+ or 24V AC Adapter
In indoor application, SD-3030 just needs to connect to an 802.3at switch (optional) for data transfer and power supply. In outdoor application or temperature below 8 degree Celsius, SD-3030 can be powered by 802.3at PoE+ switch or 24V AC adapter (optional) for heater power consumption.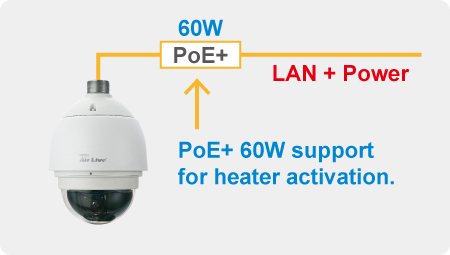 AirLive CamPro Mobile for iOS and Android
AirLive has released the CamPro Mobile apps for both iOS and Android system. It supports most of AirLive IP Cameras for live viewing and also supports two-way audio, snapshot and movement controls on PTZ cameras. You may download the software from App Store or Google Play. Please visit our FAQ page for more information.
Camera
Camera Type
Max Resolution
Image Sensor

1/2.8" 3Mega Sony CMOS image sensor

Sensor Resolution

2048X1536
4.4 ~ 132 mm
F=1.4

Night Vision
Max IR Distance
Minimum Illumination
Mechanical IR-Cut Filter
Auto Iris
Viewing Angle

Wide: 60.5゚(H) 47.5゚(V)
Tele: 2.5゚(H) 1.9゚(V)

Pan/Tile Control

Pan Degree-0~360
Tilt Degree--10~190°
Preset Points-Up to 300 preset point
Camera Tour-Up to 8 tours

Analog Video Out
Video
Video Compression

H.264 (HighProfile/MainProfile/Baseline) MJPEG

Video Profile
Resolution and Frame Rate

30FPS @ 2048 x 1536 (4:3)
60FPS @ 1280 x 1024 (4:3)
60FPS @1024 x 768 (4:3)
60FPS @800 x 600 (4:3)
60FPS @ 640 x 480 (4:3)
60FPS @ 1920 x 1080 (16:9)
60FPS @ 1280 x 720 (16:9)
60FPS @ 720 x 480
60FPS @ 352 x 240

Streaming

Multi-profile streaming
Streaming over UDP, TCP, or HTTP
M-JPEG streaming over HTTP (for non IE browser)
Configurable frame rate and bandwidth
Support both CBR and VBR

Image Processing

AE, AWB
Text, time and date OSD

Digital Zoom
Audio
| | |
| --- | --- |
| Audio Encoder | |
| Audio Streaming | |
| Audio Input/Output | Speaker & microphone I/O port |
Network
Ethernet
PoE
Wireless
Supported Protocols

IPv4/v6, TCP/IP, UDP, RTP, RTSP, HTTP, HTTPS, ICMP, FTP, SMTP,DHCP, PPPoE, UPnP, IGMP, SNMP, IEEE 802.1x, QoS, ONVIF, ARP

Security

Password protection
IP filter
HTTPS

Users

Up to 20 simultaneous users
LED and Button
| | |
| --- | --- |
| Power LED | |
| Link/Act. LED | |
| Reset Button | Reboot and Factory Default (Push and Hold default button for 20 seconds) |
General
Network Processor
System ROM
System RAM
Power Supply
Power Consumption
Connector

1Gbps Ethernet (RJ-45)
24V AC power jack
Audio I/O
4DI /2 DO
Reset button

Environment

Operation: Temp: -40℃ ~ 50℃ Humidity: 0% ~ 90% non-condensing
Storage: Temp: -40℃ ~ 50℃ Humidity: 0% ~ 90% non-condensing

SD card slot
Dimension

HxWxD:282.11x282.11x115 (φ)mm
System Integration
Campro Professional
Search & Installation-IP Wizard II
CamPro Mobile

Event Triggers

Motion detection
Network Failure Detection
Periodical Event
Manual Trigger
Audio Detection

Motion Detection
Event handler

FTP file upload
E-mail alert
HTTP
PTZ
DO (digital output) alarm

UPNP
Application Programming Interface

Open API for software integration
SDK

Video Buffer

Pre- and post- alarm buffering

Alarm Triggers

Intelligent video motion detection, audio detection and external input

Alarm Events

File upload via FTP, email, SD card
Notification via email, HTTP, and TCP
External output activation

Continuous Recording
Viewing System
| | |
| --- | --- |
| OS | Windows VISTA / Windows XP / Windows 7/ Windows 8 |
| Browser | Internet Explorer (8.0+) / Chrome / Firefox / Safari |
| Cell Phone | |
| Video Player | VLC, Quick Time, Real Player, Core Player |
Download


| | |
| --- | --- |
| Title | Download |
| SD-3030 Spec Sheets | |
| SD-3030 QIG | |
| SD-3030 User Guide | |
| IPCAM VMS NVR Compatibile List | |

| | | |
| --- | --- | --- |
| Title | Description | Download |
| AirLive SD-3030 Firmware Version vk20151106NSZ | First Release | |
| AirLive IP Wizard II version1.0.0.3 | Easy installation with AirLive IP Wizard II Setup for discover AP & IPCam's IP address and set up related parameter . | |

| | |
| --- | --- |
| Title | Download |
| AirLive SD3030 SDK SDK | |
Frequency Ask Questions (FAQ)

Model No
| | |
| --- | --- |
| SD-3030 | 3-Megapixel 30X Optical Zoom Speed Dome IP Camera with Smart Tracking |
| SD-3030-W-P110V | SD-3030 IP Camera with Wall Mount Kit and 110V Power Adapter |
| SD-3030-W-P220V | SD-3030 IP Camera with Wall Mount Kit and 220V Power Adapter |
EAN Code
| | | |
| --- | --- | --- |
| Model | 13 EAN Code | 14 EAN Code |
| SD-3030 | 4719869617910 | 14719869617917 |
| SD-3030-W-P110V | | 14719869617955 |
| SD-3030-W-P220V | | 14719869617962 |
Included Accessories
Package content:
User's Manual CD
Quick Setup Guide
Accessory Pack
Optional Accessories
| | |
| --- | --- |
| ACC-WMK-SD20 | Outdoor Mounting Kits for AirLive speed dome |
| ACC-SD-PA243A-110 | AC 24V/3A Power Adapter for AirLive speed dome, Input 110V |
| ACC-SD-PA243A-220 | AC 24V/3A Power Adapter for AirLive speed dome, Input 220V |
| SP-100E | Network Surge Protector |
| Grounding cable | 600mm |
Standard Package
| | |
| --- | --- |
| Package Type | |
| Package Size | 26.5*44*36 cm |
| Weight | 4.26 kg |
Carton packaging
| | |
| --- | --- |
| Quantity (units / carton) | 2 |
| Dimensions | 46.5*56*39 cm |
| Weight | 9.9 kg |
Top