Key Features

Free Bundled PC Video Recording Software
Support multi-stream profiles for full frame rate 64-ch Live View
Support ONVIF Cameras
Support H.265, H.264, and MPEG-4 Codec
Camera motion Detection
Sensor Alarm management
Compatible with Most Cameras in the Market
E-MAP and Multiple Monitor Support
The CamPro VMS is the ideal video management software for home to enterpriseapplication. It's capable of managing up to 64 AirLive IP cameras. Deliver and store high quality live video.
The new Campro VMS has a completely new user interface that incorporate drag-and-drop to make operation much easier than before. In addition, it supports the new H.265 codec which can save up to 50% of bandwidth and storage space. The Campro VMS can also work with ONVIF compliant cameras to make compatibility with your existing network easier.
Depending on the built-in graphic analyzes function; CamPro VMS can detect the motion area. Remote monitoring and playback is possible through the web browser.
CamPro VMS has the ability to automatically search and find the available cameras on the network which can greatly reduce the user's effort when configuring the system.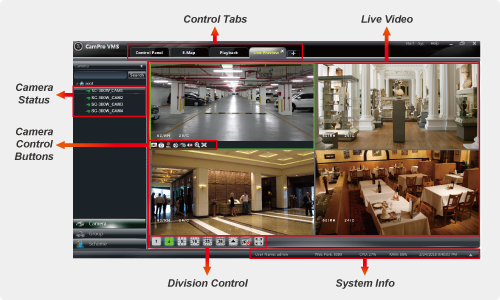 Drag and drop video placements
CamPro VMS Support Drag and drop video placements. You can click any video live stream and place any block of live monitor..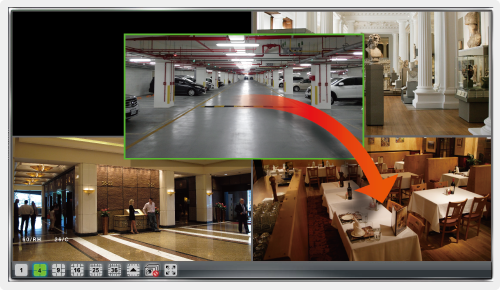 Live View E-Map
CamPro VMS support live view E-Map, when motion detection function is enabled. The live video of the camera will pop up on the map when an event is triggered. Also a alarm message will pop up.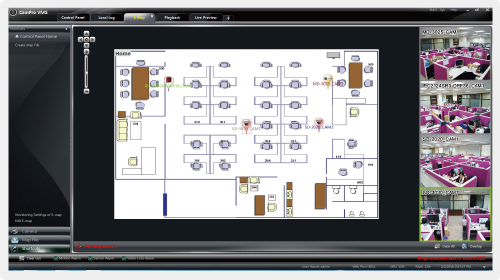 Remote Live View
CamPro VMS allows you to monitor 64 channels via remote live view. You can also choose to view the different camera in single view or 4/9/16/26/33/36/49/64 view via internet..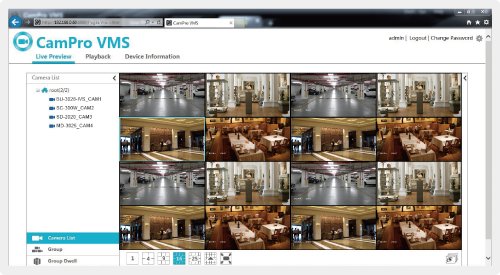 Support Multiple Monitor
CamPro VMS support multiple monitors. User could take one monitor for Live View, other monitor for the E-Map, Event View, and Playback Monitor. Extend the viewing tabs to multiple windows screens.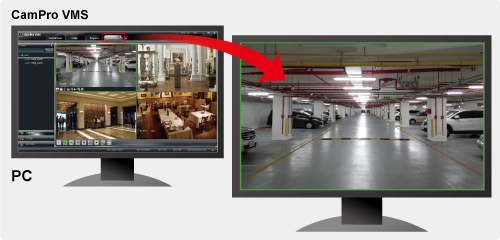 CamPro VMS can be used in different environments. This can be in Airports, Shops, Offices, Hallways, Basements, or Elevators.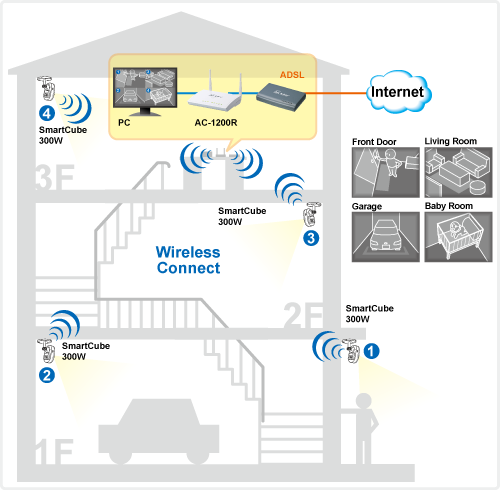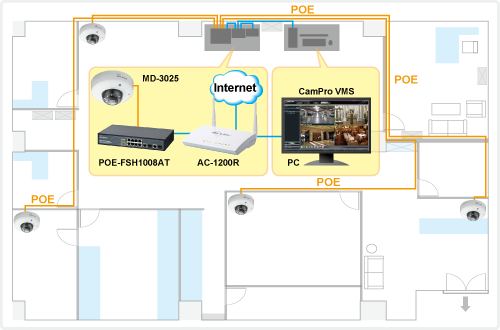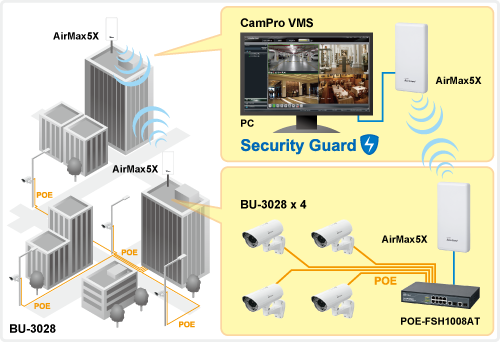 Camera

Camera Install
- Manual / Smart Camera Search
Supported Channels
- 64
Supported Brands
- AirLive, Onvif

Video

Compression
- MPEG-4 Part 2/H.264
Resolution
- 5M/3M/2M/1.3M/720P/VGA/CIF/QCIF
Max. Frame Rate
- UP to 30 fps per Channel (total frame rate depends on CPU)

Audio

Compression
- G.711/G.726
Two way audio

Live View

Display mode
- Live View/E-Map View/Event View/Playback/Full Screen
Multi-Monitors
- Using tabs can view different functions simultaneously
Split Screen
- 1/4/6/8/16/17/21/25/33/36/49/64/100
Full Screen
- Up to 10x10, 1 screen
Sequence Mode
- Sequence All/1/4/6/8/10/16 split view/Group with Configurable timer
Snapshot
- Video snapshot in BMP format
E-Map
- Triple Layer E-Map Display (main map and its sub- maps). Live video display on map
Motion Detection
PTZ Function
- Virtual PTZ Panel/Preset Point
- Airlive PTZ joystick control (ACC- Joystick)

Web Live View

Display mode
- Live View/Playback/Full Screen
Split Screen
- 1/4/8/10/16/17/21/25/33/36/49/64
Sequence Mode
- 1/4/8/10/16/17/21/25/33/36/49/64 split view with configurable timer
Snapshot
- Video snapshot in BMP format
PTZ function
- Virtual PTZ Panel

Remote Playback

Split Screen
- 1/4/9/16
Search Method
- Start Time/Event
Playback Control
- Play/Pause/Stop/Forward/Reverse

System Configuration

Recording path
- Max. 8
Audio/video Backup
- AVI
Configuration
- Backup/Restore

Recording

Recording Mode
- Manual/Continuous/Scheduling/Event
Scheduling Types
- Full customized

Triggers & Events

Motion Detection
Digital Input
- Receive trigger from camera's input
Event Notifications
- On-Screen Alert/On-screen Motion
- Display/Configurable Alert Sound/Record

Network

Protocols
- HTTP/SMTP/DHCP/DNS
Streaming Protocols
- Depend on the supported cameras

User Management

Management
- User
User
- Up to 15 User (Administrator/User Define)
Privileges
- Live View/Playback/System Configurations/PTZ

Log Type
Language

English, Trad.Chinese, Simp.Chinese Vietnamese, Turkish, Romanian Hungarian, Spanish, Italian Portuguese, Slovak, Polish, Korean Russian, Bulgarian, Czech

System Requirement

Min. Hardware Requirement
- CPU: Intel Core i7 or above
- RAM: Minimum 4GB or above is recommended
- HDD: 1TB or above
- Graphic Card: Independent graphic card with DirectX9.0c or higher
- Network: Gigabit Network Interface
OS Support
- Windows 7, Windows 10, Windows Server 2008 R2 Standard/Enterprise, Windows Server 2012
Download


| | |
| --- | --- |
| Title | Download |
| CamPro VMS User Guide | |

| | | |
| --- | --- | --- |
| Title | Description | Download |
| CamProVMS Ver3.3.0.60903 | ● Fix the can't add camera to web side issue. | |
| CamProVMS Ver3.3.0.60711 | | |

Frequency Ask Questions (FAQ)

Model No
| | |
| --- | --- |
| CamPro VMS | Professional IP Camera Video Management Software |
EAN Code
| | | |
| --- | --- | --- |
| Model | 13 EAN Code | 14 EAN Code |
| CamPro VMS | | |
Standard Package
| | |
| --- | --- |
| Package Type | |
| Package Content | |
| Package Size | |
| Package Weight | |
Carton package
| | |
| --- | --- |
| Quantity (units / carton) | |
| Dimensions | |
| Weight | |
Top